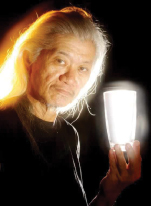 EDWIN CELESTINO
Fashion & Advertising photographer
One of the Philippines' foremost fashion and advertising photographers, with more than 30 years professional experience. His client list includes all of the major department stores, fashion designers and many of the leading magazines in Metro Manila.
Of late, he is into education, teaching photography in the DLS-College of St. benilde from 2003 to 2010. Presently, he teaches at CIIT-College of Arts and Technology while also conducting workshops for the Ayala and Ortigas Foundations.