ANNOUNCEMENT: Registration for the February 28 advanced workshop is already closed. You can still send in your portfolio review via workshops@m2studio.biz for the next advanced session on April 25. Our other workshops are open for registration, please visit  http://m2studio.biz/workshops/
Thanks for your patronage and support!
– m2studio workshop manager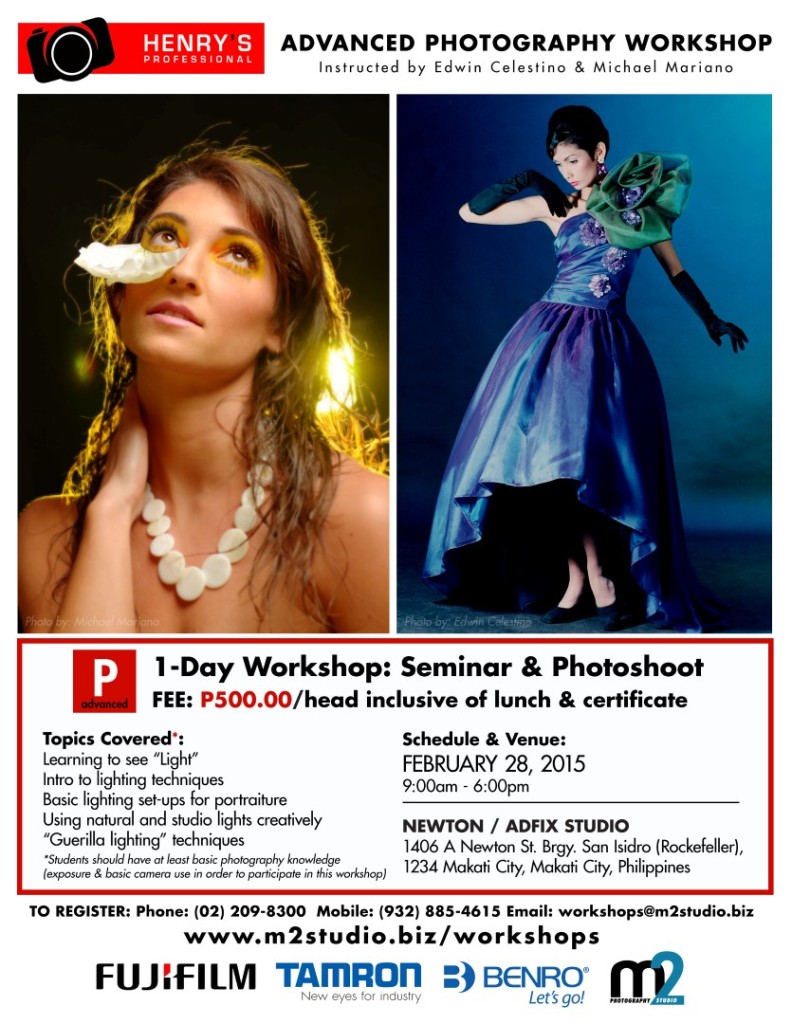 Henry's Professional in cooperation with m2 studio and its sponsors kicks off its summer 2015 activities with its 1st Advanced photography workshop! 
Henry's Professional Advanced Photography: 1-Day Advanced photography Workshop
(To be qualified for the workshop, the participant should have completed the Henry's/M2 studios' basic workshop course or or submit a compilation of 5 to 8 photographs by the student for review.)

Topics covered: Learning to see "Light", Intro to lighting techniques, Basic lighting set-ups for portraiture, Using natural and studio lights creatively, Solving technical problems in lighting, "Guerilla lighting" techniques.
Class limit: 15 students max
Instructors: Edwin Celestino & Michael Mariano
Schedules: February 28, 2015 and April 25, 2015| 9am to 6pm.
Where: (@ Newton Studio, Makati City, Philippines):
1406 A Newton St. Brgy. San Isidro, Makati city
MAP: https://goo.gl/maps/DnqZD
Continue reading "Henry's Professional – Advanced photography workshop" »